Cem Bolukbasi Scores Points On First F3 Asian Ch ionship Weekend
"Could you imagine an F1 Esports driver in real Formula 1?"
Perhaps not yet. But the evidence that we are heading for a digital revolution in motorsports is insurmountable. There will come a time when the two worlds converge in a permanent, irreversible way, and when it does, it will be drivers like Cem Bolukbasi who bridge the gap.
Debuting in the Formula 3 Asian Championship over the final weekend of January 2021, Bolukbasi added yet another string to his already-impressive bow. Mixing it with Formula 2 winners and Formula 3 hopefuls, it represents arguably the strongest competition of his career so far. It was amazing then, to see him score points in all three races!
"It was Amazing weekend," he began, summarising the three-race programme in Dubai.
"Being able to fight against the top drivers in my first race weekend was great to see. It was a joy to drive a car like this one, and fight against the drivers involved.
"It was incredible to be up against drivers like Guanyu Zhou and Jehan Daruvala, and I have nothing but respect for those guys. Being able to get this close on my first weekend was a big surprise. Now I'd like to close that gap even more. We have 12 races to go, so there's much to learn! I would like to use this momentum and get closer."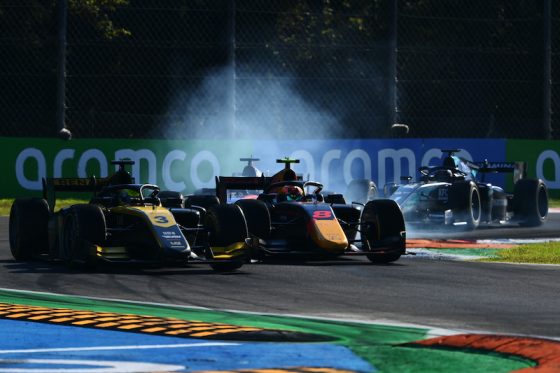 Both Zhou and Daruvala picked up their debut Formula 2 wins in 2020
TRACK RECORD
The five-race, four-weekend programme of the Formula 3 Asian Championship sees the cohort alternate between Dubai Autodrome and Yas Marina Circuit in Abu Dhabi. First up, it was the turn of Dubai, a track unfamiliar to some.
"Dubai is a great circuit, but it's also one I haven't raced in esports before. It's Abu Dhabi next weekend, and it's one I really like, should be good fun! The first win I had in F1 Esports was there, so it's a special place for me. It's where everything started, and where my life changed. Will be an emotional weekend."
Despite having never driven the circuit before, Bolukbasi was happily nestled in the points in all three races. He recorded a P7 finish on debut, followed by a ninth and an eighth-placed finish in the third and final race.
It puts him eighth in the championship, with 12 points. F2 star Guanyu Zhou leads the standings on 50 points, just one points ahead of F3 racer Pierre-Louis Chovet. Ferrari Driver Academy's Dino Beganovic is also in the mix, sitting third with 46 points.
IT'S THE DRIVER, NOT THE CAR
With several seasons of F1 Esports, plus plenty of on-track experience, Bolukbasi has had the opportunity to sample many different racing cars. And still, the Turkish ace is able to draw on his sim racing experience.
"It's mind blowing how close it is to the game. Being able to use the experience I have from F1 Esports in Formula 3 is my biggest advantage."
The Formula 3 car used in the series is a Taatus-built, Autotecnica-powered model, which is similar to the one Bolukbasi drove in Formula Renault Eurocup back in 2019.
"The car was just amazing to drive. It was definitely not anything close to the GT4 car I've driven in the past, it was a different experience as a whole. It was more like the Formula Renault car, but obviously the only experience I had there was about two days."
There are still plenty of races to go, and lots of points to be earned. 12 races remain – that's nine at Abu Dhabi and three more in Dubai. But rather than set specific goals for positions or podiums, Bolukbasi has a bigger narrative in mind.
"I would like to show everyone in the world that a sim racer can bring the challenge to the very best on the physical track. Hopefully with the results here, it can help me on my journey to move forwards. Could you imagine an F1 Esports driver in real Formula 1?!"
Follow Cem's journey on the Formula 3 Asian Championship YouTube channel, with live streams of all sessions available for free.
The post Cem Bolukbasi Scores Points on First F3 Asian Championship Weekend appeared first on F1Esports News.
Read More
Gamble Now